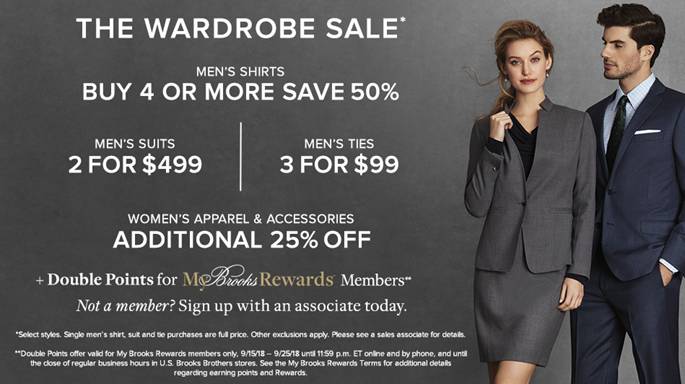 WARDROBE SALE*
MEN'S SHIRTS
BUY 4 OR MORE SAVE 50%
MEN'S SUITS
2 FOR $499
MEN'S TIES
3 FOR $99
WOMEN'S APPAREL & ACCESSORIES
ADDITIONAL 25% OFF
+ Double Points for MyBrooksRewards members**
Not a member? Sign up with a sales associate today.
*Select styles. Single men's shirt, suit and tie purchases are full price. Other exclusions apply. Please see a sales associate for details.
**Double Points offer valid for My Brooks Rewards members only, 9/15/18 – 9/25/18 until 11:59 p.m. ET online and by phone, and until the close of regular business hours in U.S. Brooks Brothers stores. See the My Brooks Rewards Terms for additional details regarding earning points and Rewards.
Valid NOW – 9/25/18
More From This Category